spoga+gafa 2018
15.Aug.2018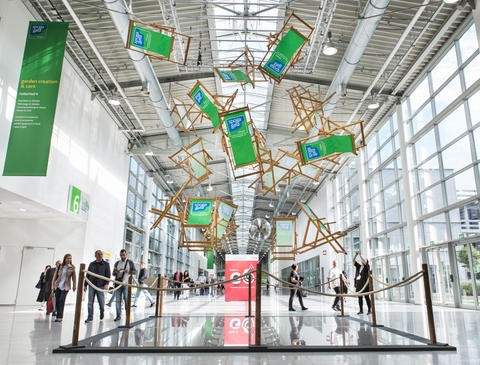 spoga+gafa 2018
Location: Koelnmesse GmbH
Messeplatz
150679Köln,德國
Date: spoga+gafa takes place from Sunday, 2st September to Tuesday, 4rd September 2018.
Opening times
For visitors:
daily from 9:00 a.m. to 6:00 p.m.
Tuesday from 9:00 a.m. to 5:00 p.m.
For exhibitors:
daily from 8:00 a.m. to 7:00 p.m.
Tuesday from 8:00 a.m. to 6:00 p.m.
Trade visitors
The spoga+gafa is exclusively a fair for trade visitors. Please understand that spot checks will be made on the door at the trade fair for proof of identity of trade visitors. We would ask you to carry appropriate proof of your identity (e.g. industry-related business card or trade licence).
The largest garden fair in the world.
Experience the garden in all its diversity: This is the possible at spoga+gafa better than in any other place in the world! Over 2,000 exhibitors show everything new, all technical innovations, the fresh designs and trends that are impressing worldwide - everything at a glance and in one location!
For example, the Outdoor Furniture Trend Show will be taking place for the first time this year: Here, selected industry experts from the design, trade, high school and trend research sections will demonstrate the design innovations and concepts from spoga+gafa exhibtors which will determine the coming garden season. Also for the first time this year: the icons of spoga+gafa .
And also the Smart Gardening World and the IVG Power Place Akku will take a unique look at the future. Finally, plants and their assistants are the focus of the IVG Power Place Green
Experience the garden in all its diversity! Let yourself be impressed and inspired for the coming season by the exciting, fresh ideas of the complete garden industry - and discover the garden of the future live at spoga+gafa 2018!
Koelnmesse – Global Competence in Furniture, Interiors and Design: Koelnmesse is the world's top trade fair organiser for the areas of furnishing, living and lifestyle. At the trade fair hub of Cologne, the leading international fair imm cologne as well as the trade fair formats of LivingKitchen, ORGATEC, spoga+gafa, interzum and Kind + Jugend rank among the internationally renowned and established industry meeting places. These fairs comprehensively represent the upholstered and case furniture segment, the kitchen industry, the office furniture sector and outdoor living as well as the innovations of the furniture supply industry. Over the last few years, Koelnmesse has specifically added international fairs in the most important fast-expanding markets to its portfolio. These include CIKB in Shanghai, interzum guangzhou in Guangzhou and Pueri Expo in Sao Paulo. With ambista, the online portal for the interiors business, Koelnmesse offers direct access to products, contacts, expertise and events relevant to the industry all year round.